All On Four Dental Implants
We work hard to provide you with the best service.
We aim to please you every time.
Your oral health is in safe hands! We love our job.
Call the main office number
+90541 383 70 90
any time you like
The All-on-4 treatment concept is a prosthodontic procedure (i.e replacement of missing teeth) that provides a permanent, screw-retained, same-day replacement for the entire upper and / or lower set of teeth with a bridge or denture. The All-on-4 protocol is for at least four implants to be placed in a jaw.
The most important part of the All-On-Four treatment is angles of the implants. That's why in DentOmega nobody but only Oral Surgeon Dt. Mehmet Ali does All-On-Four treatment. We want you to have the best. 
All-On-Four implants are alone is not the solution for lost teeth. Since their purpose is being the root for the new tooth patients will need prosthetic which includes 12 teeth for one jaw line. 
We, as DentOmega, are using international brands for our patients. The origins of the implants that we're using mainly Germany, Switzerland and South Korea. The brand of the implants are important because you'll receive the document of your implants which is also a guarantee for our implant treatments.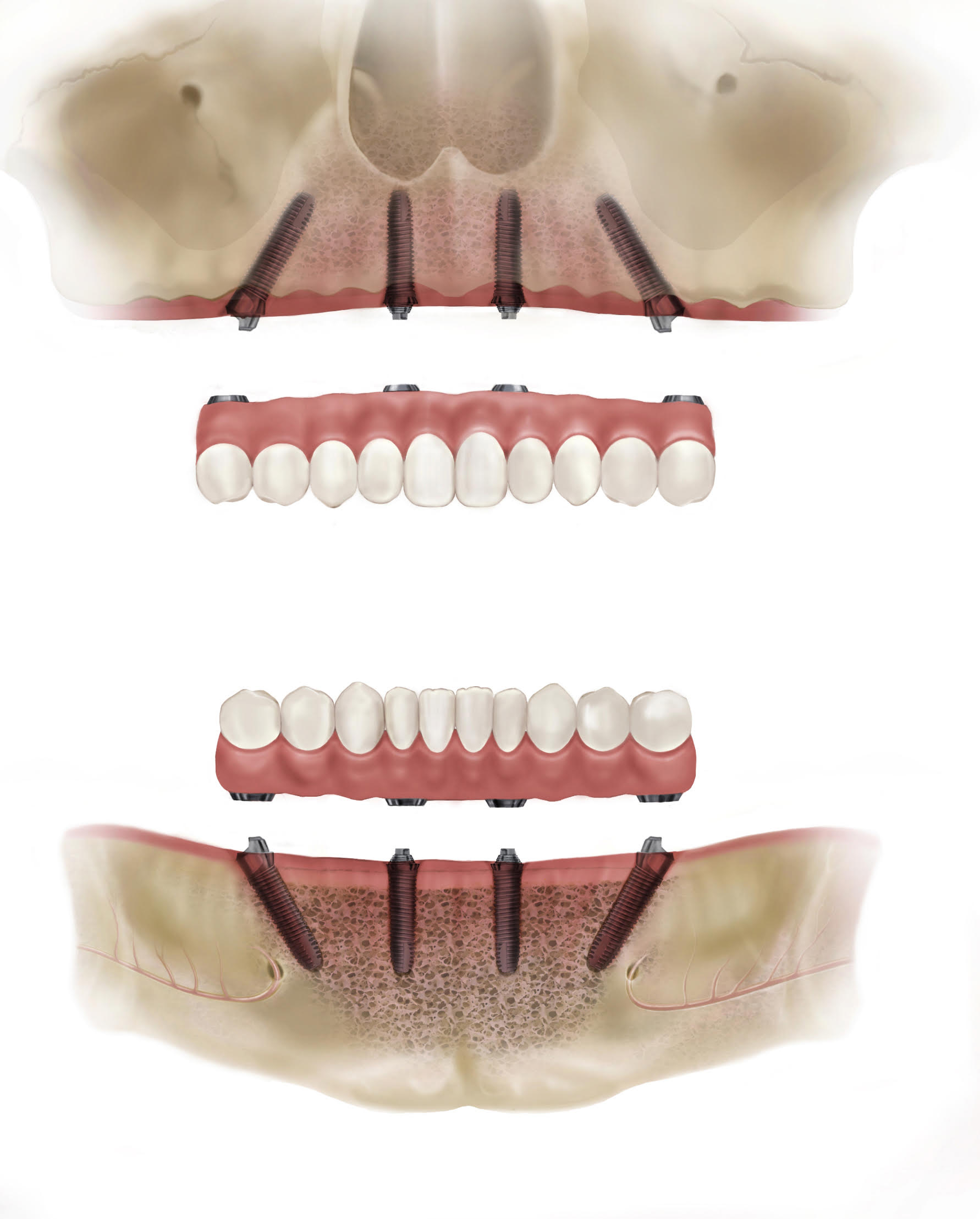 Frequently Asked Questions About All On Four Dental Implants
Check out the Services We Offer in Dentomega.
What did our patients say for us?
We leave happy, aesthetic and healthy smiles behind us.
"First of all, I would like to thank the dentist Mehmet Ali. I went for my dental treatment, which I could not find a solution for years."

Kara Lucas

Interior Decorator
"My tooth started to ache very badly during my Izmir trip. This is how i met Mehmet Ali. I would like to thank the dentist Mehmet Ali and his team very much."

Alex Cohen

Designer
"An incredibly relevant, polite and modern clinic; I have overcome my "dental chair phobia", especially thanks to the dentist Mehmet Ali's smiling face and relaxing behavior."

Jake Smith

Developer
Would you like to know the treatment prices?
There are great ways to contact Dentomega, if you wish, you can write to our representative from the conversation window in the bottom right corner of the screen, call us immediately or fill out the e-mail form on the side and send us an e-mail.
Adalet Mah. Manas Bulvarı
72/A Bayraklı / IZMIR / TURKEY
Get Directions
Are you ready for a beautiful smile now?
Contact us, let's talk about your treatment now.